Products – Cypress Pine Pickets
Cypress pine pickets are perfect for giving a home that extra element of charm and character. Our range of picket fencing supplies are incredibly popular for people undertaking commercial building as well as DIY projects. Kazman Timber proudly supplies the builders of Melbourne with the highest quality picket fence materials available on the market. Stylish and durable, cypress wood is renowned for being able to withstand the unpredictable conditions of the Australian weather.
The team of fencing experts at Kazman Timber are committed to sourcing and providing an unmatched standard in building materials to go in-hand-hand with our superb service
Feel free to pop into our Ravenhall timber yard to take a look at the style and quality of our cypress pine pickets or give us a call if you have any enquiries about our products.
Our range of cypress pickets
Our range of cypress pine pickets come in both the windsor shape and blank shape (flat top).
Our pickets are manufactured in Melbourne from the highest quality cypress pine.
Cypress is naturally rot and termite resistant, making it a safer and more economical product than some comparable products such as treated pine pickets. The windsor picket is one of the more common profiles. The following pickets are stocked on the shelf in the following lengths:
Contact us for further enquiries
If you have any further enquiries regarding our range of cypress pine pickets available for purchase, or if you have a question about any of the other products available at Kazman Timber, feel free to get in contact with our friendly team of staff. We are committed to providing the highest standard of service available, and are always happy to have a chat about our products and how they can work for your building project.
Give us a call on (03) 9310 7359 or pop into our Ravenhall timber yard where one of our fencing experts will be happy to help you with your enquiries.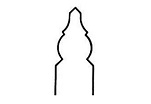 Windsor Shape
68mm x 19mm x 0.9mt
68mm x 19mm x 1.2mt
68mm x 19mm x 1.5mt
68mm x 19mm x 1.8mt
68mm x 19mm x 2.1mt
Blank Shape
68mm x 19mm x 0.9mt
68mm x 19mm x 1.2mt
68mm x 19mm x 1.5mt
68mm x 19mm x 1.8mt
68mm x 19mm x 2.1mt