Redgum Posts and Sleepers from Our Melbourne Timber Yard
The fencing range at our Melbourne timber yard includes redgum posts and sleepers. Our redgum is sourced from directly from mills located around the Murray River.
River red gum is an iconic Australian tree, yielding an equally iconic Australian timber. The timber has a reputation for durability, strength and its distinctive red colouring. Its wide availability has seen it used for a range of applications.
Please note: We usually stock redgum products, however due to the high demand, waiting periods may apply. Please order these items in advance or come into our timber yard to see what we have readily available.
Redgum Posts
Our redgum posts come in the following sizes.
125×75 x 2400
125×75 x 2700
Please call us to check availability.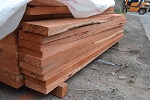 Redgum Sleepers
Redgum Sleepers are out of stock.
The benefits of river redgum
The reddish, interlocking grain of river redgum makes this type of timber perfect for the Australian home. Used for cladding, decking and fencing – the deep colour of the river redgum gives a home an element of rustic charm and sophistication. Popular with builders and DIY renovators alike, redgum posts and sleepers are a durable and high-quality timber, ideal for protecting homes from infestation and the spontaneity of Australian weather conditions.
At Kazman Timber, we only source the highest quality materials for Australian builders. We understand the demand for durable timber and understand this has often been something lacking the market. Therefore, we never skimp out on the quality of the river redgum available at our Ravenhall timber yard. Come in and see for yourself – you'll notice the superiority in the product we provide; it's something we take very seriously.
Contact us for further information
Have a question about our range of redgum posts and sleepers or have a general enquiry about the products available at Kazman Timber? Feel free to get in contact with our friendly team of staff. We're always happy to have a chat about the products we have available, as we want you to find the right material for your building needs.
Give us a call on (03) 9310 7359 or come into our Ravenhall timber yard where one of our fencing experts will assist you with your enquiries.